I am sure that the people all over the world have different experience. Today we will hear one experience of millions. Whose is that? Let's check it out:
I was born in 1985 in Sam Rong Village, Lieng Dai Commune, Angkor Thom District Siam Reap, Angkor Down town. I have 3 brothers and 3 sisters, but now they are already separated from me.
I have a bit difficult childhood, because the time when I was born was just the end of the Pol-Pot-regime.
I could not go to school until I was 7 years old, because we had no school. The school I did was very far - about 5 km, How did I travel? On foot! Through the rice fields. But anyway, I enjoyed it, because some of my friends had no bike as well. I had been studying there for 6 years until I finished primary school in 1998.
Due to the secondary school and budget to support me to go on at province centre; I had to force to stop and help my family. I was still young, so I could not lift the heavy things and cut down forest to make farm, so my farther made me to feed the cows. I did it for 3 years.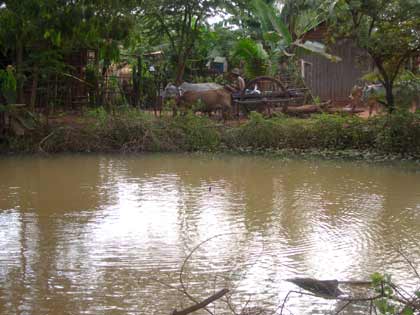 Quelle: Postbote;
Cambodian Cow Boy at work
During I was working as a cow boy, I always brought a book with me - to read when I had free time Besides, I also liked singing. What kind of music did I sing? Of course romantic song. I just climbed up the tree and flung my voice in the air; talk about this reminds me of many things happening then:
At that time - even though I worked as a cow boy - I never forgot to think about my future.
And I felt very jealous to my friends, that they were able to study. I thought about that, finally I found the solution. What was that? Ministry! I thought it could help me to study, and get the bright future. So I asked my parents to stay with the monks. But it was easy find; firstly I tried to find in the province centre, because it's near to the school. Unfortunately I could not get in there. The "head monks" did not allow me to stay with them. So I came back to one more, called Brey Pagoda; it is in Bantey Srey District - in the countryside as well. But there is a school near which is called Bantey Srey Junjior High School. I could stay in that pagoda in 2001.
What happened to me for the first day? Yes! I felt very helpless, I missed everything: parents, friends, cows, homeland, because I knew absolutely no one there. And when the night was coming, I did not know where to sleep and that night it poured with rain. Lightning, thunder and thunder storm were coming up a lot. I felt frightened. Cold. My tear dropped out as the way that the rain fell down, I had never left home before. I nearly run home, but I tried to grit my teeth to stand up with everything. Fortunately, there was a monk coming out of the small thatch-roofed cottage, and said some softly words to me: "Come on to stay with me" . From then on we are friends, but now I have never met him since I left there, because his village is very far from me.
Postbote - 4. Mrz, 14:22