written by: Sam Nang Chong, Cambodia
Last time I spoke about my english teachers and my studies.
I will tie up to this now...
In late 2001 I became more and more the first class student - in both: State school and pagoda. So the head monk asked me to stop studying at the state school for being a monk and staying in the pagoda. Otherwise I had to go back home for living. I didn't want to be a monk at all, because in that case I would give up my school and with that my main aim. But the head monk would not have accepted if I did not become a monk. So I decided to do both.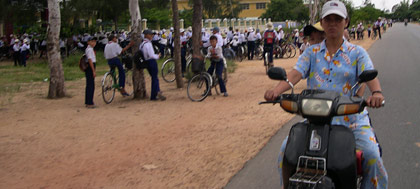 Quelle: Postbote,
Children in front of the school
What was the way like? I asked my teacher for permission to sit out my studies for a while and take this time to be monk. After around six months as a priest, I decided to go back as a simple person. Many times I tried to ask the monk for admittance. First he did not agree, but after I told him several reasons, he finally said ok. But he did not let me stay in the pagoda anymore, he was very angry with me, because he wanted me to study Buddhism.
It was realy sorry for him, but my future had more importance. First I had to help myself and one day I will do anything as the thanksgiving. What do you think of my decision?
If I had stayed with my parents any longer and working on the rice fields, I could have filled just my own stomach. I stopped thinking of every thing. I did not care about the distance from home to school.
In school I had one teacher who always took care of me. First I could not get the new grade, because I had not done the final exams, but luckily she could help me.
I was studying in grade 8 and I was still the best student. The schools are very good – even in the countryside and not only the private schools. In that time I already had good English teachers.
When the old year finished, my friend asked me for changing the school and study in town. I agreed with him, because I thought that I could find anything to work at night. My parent consented with me as well, because my old school was very far from my home and there was no road. Besides everyday I had to go alone through the forest and then across the river. They were worried about my safety.
In 2003 the last year of Junior High School was coming I had a new school called '' SAM DECH OV HIGH SCHOOL'' (I also call it the "school for money.")
What were the school and the teachers like?
The facilities were more than good, but in the school for money every teacher tied to be on and off and was corrupt. The law in Cambodia said, that the state school must be free of charge, but only one school followed. Every month
we had to give them some money for the score. Especially in the private classes: if we gave them nothing, they would have ignored our questions. Do you thing they were bad teachers? Not really bad. If they had not acted like that, maybe they would have died of hunger. Their
salary was much smaller.
Do you have an idea how I could support my own studies?
First I tried my best to find anything to work at night. There were a lot of open jobs, but I could not even get an interview. Luckily, I knew one person who was working as a motor driver in a guesthouse; at that time they were recruiting probationers, so my friend asked me to work there.
...to be continued...
Postbote - 8. Mai, 23:27