- written by Sam Nang Chong, Cambodia -
In my last text I mentioned that I was about to work as a moto driver.
As you know my family is very poor, so when I told my mum about that, she was very depressed, because I had to buy a motorbike, and that is not cheap. Finally my parents decided to sell a pair of cows and an area of land so I can have motor for working.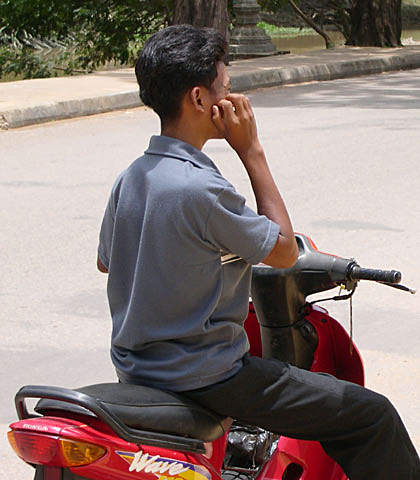 Quelle: Postbote;
Luck's new moto
I could not work every day so I could have time to study, but I was not a good student any more. One day I felt, as if I could not finish my school so I decided to major English in a private school called NCI.
Just a short time being a motor taxi driver, the guesthouse that I worked with had some problem. So the manager decided to close. On the other hand, the money that I had paid for the school went off too, so I felt very tense. Fortunately the last turn of my job at the guest house I met a very kind and generous tourist. He was the one who lifted me up and showed me the way to go so far.
Some time I asked myself that why he spends a lot of money on me like this; I am not his relative at all, and especially I have never done anything for him. He's even my father's relative, he was the person that my father used to help, when he was very poor.
My father is a kind person too. Before Khmer Rough my family lived in the better situation and in the other village. We had a reasonable house to live and enough food to eat, because it was a place with fertile land to make farm, but now it is just forest. At that time my family always cared about the sorrow and happiness of their neighbours, we never got cross with anyone.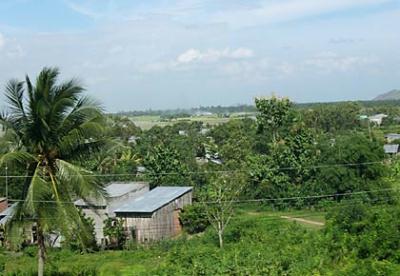 Quelle: Postbote;
Roofed cottage

But any way: when
Pol pot regime
finished everything got different. We had to build a new house, but we could make just that roofed cottage to live so far. Also we had no rice. Nearly all of the people just went in the forest to get the wild potatoes to eat.
One day my father came down with illness. First I did not know to who to appeal to. Then I went to my father relative because I thought he could help me. My farther was a very thankful person to him as well.
But what happed?
He did not help me anything, but he said that this was the result of that I am being student. Every cent my farther spend on me I should take to study to support my family and so on. At first I felt very angry with him, but he was right. If I had not studied my family would not been so poor like that. But my farther did not feel sorry about that, because he liked the educated persons. He didn't want me to be like them. You know, my mother is illiterate. She always wanted to read and write, but she couldn't. So she wanted me to be the educated person in our family, even if she looses her life.
At my village my family is very poor, but I am nearly the highest educated boy. Anyway, one day I will get the result as well as my attempt. Like one true saying ''attempt is very bitter, sour, hot, but the result that we get is very, very sweet''.
Do you want to know why my mum is illiterate? Her mother did not allow her to study. She thought that if the girls get educated and literate they would only write letters.
To be continued...
Postbote - 28. Mai, 13:42