written by: Sam Nang Chong, Cambodia
Last time I have already mentioned my first day in pagoda
: I spent many more days there. Let's see what was happening?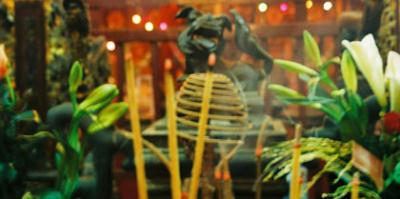 Quelle: Postbote;
Pagoda from inside
Just a short time later, I could make sense of living there.
Soon after that the new term was coming after vacation. So I asked the head monk to study in the school that is around seven km away. The monks allowed me, but at night I had to study the Buddha prayer and the rules of the monks, because every person who lives there must one day become
a monk.
I started my secondary school in 2001. At night I learned to pray until 9.00 or 10.00 p.m. When I was in my room, I always reviewed my lessons from school, did home work and checked, what I had to study the next day until mostly midnight. After that I could go to sleep.
In the morning it was hard as well: I had to get up at 4.00 a.m. – otherwise one of the monks would have hit us. After getting up I was every morning supposed to prepare breakfast for the monks. During this, I always reviewed the things I had learned in the evening, to make sure and remember well. If we did not remember some things, we were hit, blamed or punished.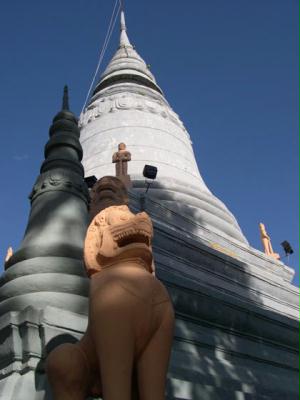 Quelle: Postbote,
Pinnacle of pagoda
Even though I was a cook but I had never had the chance to have breakfast, because we could not eat before the monks had finished - or we will be in sin. Furthermore my English class was early at 5.00 p.m. My English should have been very well, but unfortunately my teacher was not good at all: He could not speak or write in English....he just copied the translation from the book and asked us to copy. Moreover he made a lot of mistakes. I spent much time with him – maybe a bit too long, but his course was very cheap. Anyway he was very good to me, because he taught me to know the ABC, what I won't forget. Thanks to him.
To be continued...
Postbote - 13. Apr, 00:26